Where do we grow
pomegranates?
Pomegranates suit a Mediterranean climate, so are well suited to many growing regions throughout Australia. Orchards have been established in the Murray–Darling Basin, southern Queensland (St. George), southern New South Wales (Lachlan and Murrumbidgee valleys) and northern Victoria (Shepparton), in South Australia (Adelaide region, the Murray Mallee, Clare Valley and the south East); and in Western Australia, near Carnarvon and south of Perth.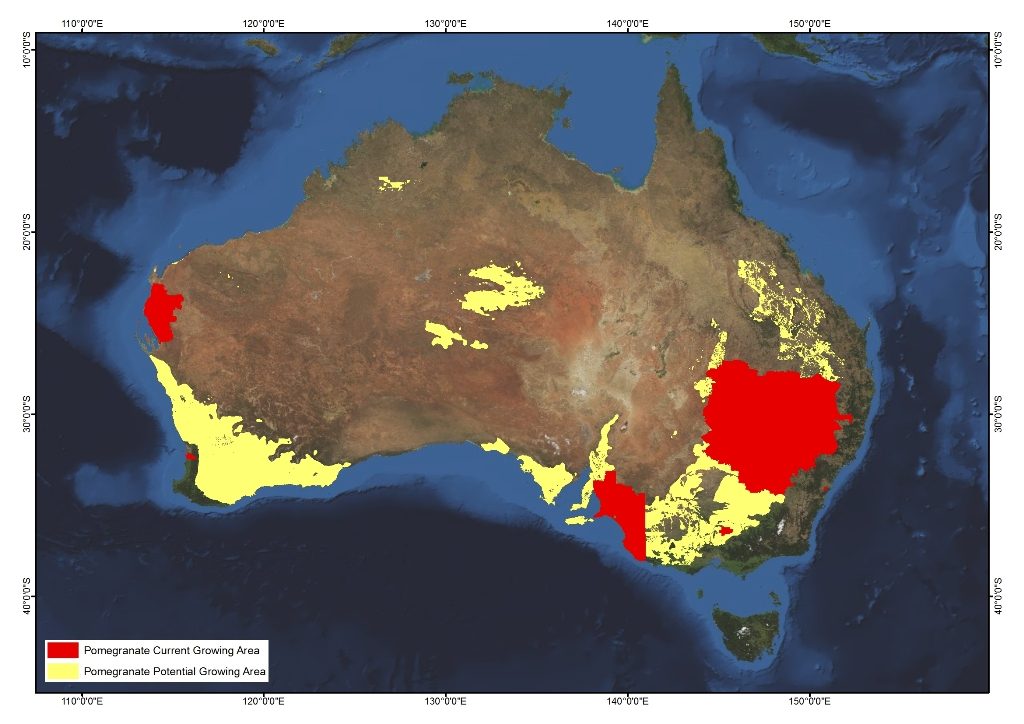 Courtesy AgriFutures "Pomegranate 24.05.17"
An ancient fruit, originating in the Middle East, the pomegranate has featured throughout history in many civilisations and has been cultivated since ancient times throughout the Mediterranean. Today it is considered one of the new super foods, packed with antioxidants, and purported they have many health benefits including anti-aging properties.


HOW TO DE-SEED A POMEGRANATE
Getting the red juicy seeds or arils out the pomegranate can be daunting the first time. But don't be put off. Click here to watch how they can easily be removed.
Food Applications and Potential Health Benefits of Pomegranate
and its Derivatives
Panagiotis Kandylis and Evangelos Kokkinomagoulos
Department of Food Science and Technology,
School of Agriculture, Aristotle University of Thessaloniki, Greece
"…these studies have concluded that the regular consumption of pomegranate fruit, juice, or even its compounds added
in other food products acts beneficially for one's health and may even protect against or improve the
course of several diseases like obesity, diabetes, cardiovascular diseases, and even some cancer types."